Things You Like In Modern Anime: Change and Consistency
"Funny seeing you around these parts! You're on an MFC article by Scones; don't you know how weird and rough-and-tumble things can get around here? Between the bad jokes and bizarre writing...this place isn't for you!
You're staying? Well, you're a brave soul. Good luck."
Hello all. Don't mind the intro, but you know, one has to spice up their articles to the best of their ability. I guess that was meant to be the narration/dialogue option for reading this.
Modern anime; it is debatable on when the age started. When one talks about "modern anime," and especially to denote to it as in poor taste, from what I've picked up on they refer to the seasonal shows post-2010. Modern anime can also encompass shows that are relatively new in the (subjective) grand scheme of things, such as Code Glass and Tengen Toppa Gurren Lagann, even though they are from the bygone
modern
golden age. The modern golden age does not seem to be the same thing as the modern age. Those are my observations, however, and I want your own input on what counts as "modern" anime.
The focus of this article is not so much on the run-of-the-mill shows as the modern classics (if there are any in your opinion) and the higher-quality shows. Though I am not discrediting the lackluster shows entirely here; they too have a stake in this article. This is about whatever anime you consider to be "good". The industry, technology, animation, and marketing of anime have changed as well. For today, we're going to focus on the media.
I'm not the biggest fan of "positive vibes." Often times, this is how I feel concerning the teenagers on Instagram who assert that you just have to "be positive" to feel good or see the good in something:
But I thought we could use some optimism at least in the world of anime, hence, this article.
What do you enjoy about modern anime? What do you see as consistent with older anime, and also what parts of it are new but benefits to the genre?
To clarify, this can be any of the following:
- Direction
- Writing (plot lines, narrative, dialogue)
- Genre (facets of it that have developed or been shed)
- Characters
- Themes
- Animation
- Miscellaneous (whatever you want!)
Specifics and generalities are both welcome.
Those are some basic categories, do with them what you wish. But what about modern anime do you like; what is new and what is still present from back-in-the-day that you enjoy?
My Answer
As I wrote this, I came to realize, this is another facet of my passion and love for anime; the partaking in the present of it. The world of anime is evolving. Parts are re-evolving, that were once extinct, and new adaptations are happening (ya like
jazz
biology, MFC?) Though it is more than that; lovable new characters are always in store for us, no matter the time it takes for them to appear. Compelling stories will always exist.
They don't make them like they used to. That sentiment may be clouded by the love of the past, the prioritization of it over the present and future. I agree with it. But really, collectively, we aren't expecting too many things to be on par with classics such as Evangelion, Cowboy Bebop, and Akira. But...they also never made them like they do now.
The classics can yield only better watch experiences and interpretations as they age. More time to analyze, create fan content for, rewatch and honor them. That is just as important as the release of a new, critically acclaimed show, to me. A western example; John Carpenter's "The Thing" has new theory videos by fans per month, that do big numbers. That's as riveting as a new good horror movie. (The horror genre has also gone downhill, but fantastic movies are still releasing amongst terrible ones. Just like anime.)
It's similar to going to your favorite restaurant where you're a regular; it's up to preference, but I consider that as equal to trying out a new one.
Going on the Monogatari subreddit and looking at all the memes, artworks, discussions and videos feels like watching a new Monogatari adaptation, but by the fans. The community is like an adaptation itself. Like a good, quality anime in and of itself.
The shows from times past will always be there (unless we suddenly enter a dystopia from 1984 that erases all past media, including anime). The state of anime cannot be recaptured perfectly as it was in the '80s, '90s, or '00s. But that's what makes it special; the ephemeralness.
With time, there is more opportunity for flavor in anime. You can have an anime that is an ode to the retro times and a reflection of "moe". There can be one that is animated in a very modern style and carries the torch of a quality space opera. Similar shows and opposite ones both have value today. Spiritual successors, classics, conceptually and fundamentally new anime, and shows that are like barnacles on a boat...you've got to fight some of them, you've got to appreciate and criticize all.
Series like my favorites, Steins;Gate, Monogatari, Tengen Toppa Gurren Lagann and Fullmetal Alchemist: Brotherhood are all quite new. Why can't they happen again? Why can't their quality be matched again? Rhetorical. They truly can, the shows themselves popping up when they did are evidence as to the capabilities of the industry. It has not fizzled out in just a decade, even if that was an option. Monogatari is to hopefully see more adaptations (parts of it are very new, with Zoku Owaimonogatari airing 2018), Hiroyuki Imaishi's works all seem to be spiritual successors to his first masterwork, and Steins;Gate and FMAB are timeless.
Sadly, though, the genre(?)/vibe of the olden' days, like Cowboy Bebop, and of a select few old shounen, aren't coming back. There was a certain feel to the seinen-like shows, as well as the more clean-cut and well-cone shounen, like they were pure gold and mature, directed and written with realism and correctly-done...whimsy? fantasy? Excitement? They were finger-licking' good is the best explanation. Good commentary, themes and ideas. Modern shounen or seinen doesn't hit the sweet spot of that easily. They do not carry the same emotion and aesthetic. That is what many people regret leaving behind, and it didn't have to be like that. It does upset me, so that is where I agree upon the fact that modern anime has branched off wrongfully. I explained that, admittedly, not too well, but it's not a dispaerance of quality, but identity.
However, "The Greats" don't excuse that the audience of anime is often deprived of any style or substance. Being a fan should not rest solely on enjoying what came before, and letting it act as a medicine to the modern, shitty shows. Which is why we're lucky that we also have the medicine of great modern shows. I'm excited to see where the industry will go, and I'm happy it has given me hope. So many talented people are paving the way, which is what I love about modern anime. It's so versatile, it can mimic the old, or forge the new. I still want to kick the shit out of some shows though. Is that weird? Some things are just painful to watch.
I'm too optimistic, but that's just because I watch less horrible, sub-par shows than most, since I'm very selective. I'm overestimating somethings, but so be it. I love anime, and my main hobby is rewatching Gurren Lagann. That was my TED Talk, hope you enjoyed.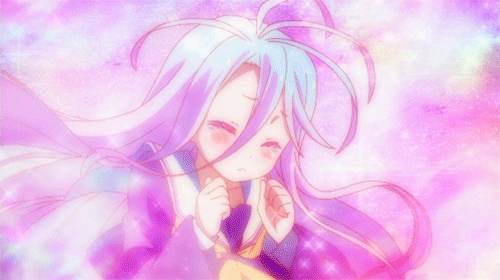 "You made it to the end, past the Impenetrable Wall of GIFs, weary traveler. You experienced the unabated, unveiled passion of a serious, introverted weeb, who unleashes its power upon the ears of those who dare to walk into its domain."
As usual, thank you for reading, and...
have a good one!